At Bloom, we believe Tastiness and Nutrition can come together as one.
Nothing is better than sipping a delicious cup of beverage formulated at its best with high-grade source of functional ingredients to cater better health and beauty just for you. And unlike the usual Collagen, we are here to serve you the tastiest one yet in this beverage that you will drink up, everyday! Wherever you are, home or office, take a break and treat yourself with Bloom.
A cup of Premium Matcha Latte
Bloom is the first homegrown brand to develop a collagen matcha latte formula for your better health and beauty. We only source the highest-grade Japanese matcha from Uji, Kyoto for the intensely aromatic and genuine taste. Every single sip is smooth, perfectly balanced, and packed with our functional collagen peptides.
Try Now
Marine Collagen Peptides
Do you know that Collagen is the most abundant protein in your body? It makes up about one-third of the whole-body protein composition while Type-I Collagen accounts for 90% of all. To serve you best, we use Pure Hydrolyzed Marine Collagen Peptides (Type-I) extracted from 100% fish scales in Korea which proven to boost absorption and bio-availability due to its low molecular weight. Resulting in fine, tasteless, odourless and highly soluble with the use of scientifically controlled hydrolysis system for production.
BEAUTY ENHANCEMENT FOR SKIN, HAIR, AND NAILS
HIGH ANTIOXIDANTS, IMPROVES JOINTS AND CONNECTIVE TISSUES
NON-GMO, GLUTEN FREE, LACTOSE FREE, AND SOY FREE
HEALTHY YET TASTY - LOW SUGAR
NO ARTIFICIAL FLAVOURING, COLOURING, AND PRESERVATIVES ADDED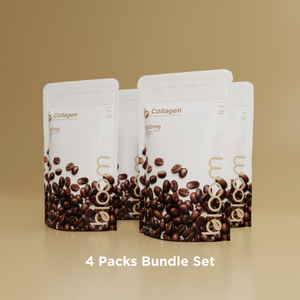 Bloom Collagen Bundle Set
Sale price Price RM360.00 MYR Regular price RM392.00 MYR Unit price / per
Tax included.